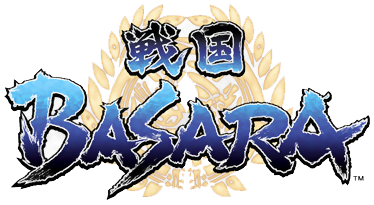 Sengoku BASARA (戦国BASARA) is a series of video games. There is also a Japanese anime series.
Sengoku BASARA is a game series made by Capcom in 2005. It is produced by Hiroyuki Kobayashi, he is also very famous for his Devil May Cry series. Up until now there are 6 games that have been released. The newst game is Sengoku BASARA: Chronicle Heroes. and soon to come Sengoku BASARA 3 Utage. Unlike Sengoku BASARA: Samurai Heroes it will only released in Japan like Sengoku Basara 2, Sengoku Basara 2 heroes, Sengoku Basara X and Sengoku Basara: Chronicle Heroes.
The anime is based on this series which was aired in Spring 2009.
Video Games
Edit
Sengoku BASARA and Devil Kings
Edit
The frist Sengoku BASARA game was Sengoku BASARA. But for the English-language it was Devil Kings. The game featured an altered gameplay and a completely different, supposedly more western audience-oriented fantasy story with original characters, which was however never used again due to the mostly negative response the localisation received from critics as well as consumers.
Sengoku BASARA 2 and Sengoku BASARA 2 Heroes
Edit
The 2006 sequel, also for the PS2. The game was also ported to Wii as Sengoku Basara 2 Heroes in 2007.
Sengoku BASARA X
Edit
A 2D fighting game by Arc System Works, creators of the Guilty Gear series, made in 2008 for the arcades and ported for the PS2 later the same year.
Sengoku BASARA: Battle Heroes
Edit
A 2009 PSP-exclusive title.
Sengoku BASARA 3 and Sengoku BASARA: Samurai Heroes
Edit
This is the 2nd Sengoku BASARA game made for the English-language.
Sengoku BASARA: Chronicle Heroes
Edit
A PSP sequel was developed, official release date in July 21, 2011.
Characters
Edit